Cooper Kicker Highly Ranked on ProKicker.com
8/24/2016 - by NKS Editor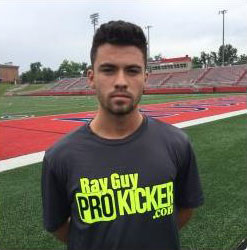 Senior Kicker Mitchell Hollifield has been excelling at kicking since he was in the 7th grade and is now one of the top ranked kickers in the United States based on Prokicker.com (one of the most respected and largest training organization for kickers, punters, and long snappers).

Hollifield finished 1st for Kicker/Punter combos several weeks ago at the "Top Prospect" invitation only camp. He has been attending kicking camps for the last 3 years and has been at the top of the pack at every camp. Hollifield hit FG's of 50 and 54 yards in competition to take first place in the camps.

As a Senior Hollifield is now capable of hitting 55+ yards for field goals and hit 100% at the most recent kicking camp 30-50 yards. He has only missed 1 FG in the last 3 seasons at Cooper (not including blocked attempts) and that was against Highlands last Friday.

Last season, Hollifield kicked the winning FG in very bad weather against Conner for the District Championship.

Sunday, Oct 1

52,023 Games AND counting
in our database