Colonels Aim for Consistency as Post Season Approaches
9/26/2012 - by Andy Foltz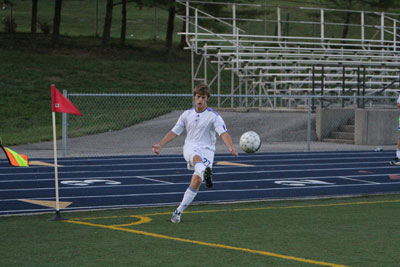 Fourteen different players have scored this year for the Covington Catholic soccer team. Those fourteen players have totaled 56 goals after a win Tuesday night over the Scott Eagles. The goals were assisted by 13 different Colonels. This means that first-year head coach Jeremy Robertson has a lot of players vying for minutes this season, and he wouldn't have it any other way.

"The way we play creates balance, and that creates more opportunities", he said. "You can' shut down one player and shut down our offense."

Senior Wheeler Blersch, who has contributed six goals and two assists so far this season, said the different contributors have made the Colonels a better team. "We found a good rhythm and a good starting 11", he said. "We're working more as a team now, and not just the starters. Everyone is getting chances, and everyone knows you have to prove yourself when you're given the chance."

Senior Nick Wessels leads the Colonels with 15 goals, followed by Blersch and Matthew Litzler with six apiece. The trio each hit the back of the net in the 3-0 win over Scott during CovCath's Senior Night. Litzler collected an errant drop kick from Scott keeper C.J. Seay and hit the side netting with a solid left-footed strike. Blersch headed home a perfect cross just before the first half ended, and then set up the third goal with a back heel flick to center the ball for Wessels, who hammered it home.

"He has great touch and a great knack for the goal", Robertson said of Blersch, who last week scored the lone goal in a 1-0 win over Ryle.

The Colonels' depth has particularly shown in goal, where sophomore Zach Stetter has filed in admirably for injured senior Jacob Futscher. Futscher started out as the top keeper this season, but after a broken thumb sidelined him, Stetter has helped the Colonels not only to a seven game unbeaten streak, but also has five shutouts in doing so.

"He has made some incredible saves, in multiple games", said coach Robertson. "My defenders in front of him, Ben Reis, Zeb Gronotte, Jon Wessels, and Joe Schuh, are all consistent, which helps." Adam Goddard got a special mention from the coach as well for the job he did defending Scott sophomore Luke Treadway, one of the top scorers in the area.

The Colonels play a pass and move style, which makes it hard for a team to defend on the ball. "We take the extra step if there is space, but that style in the post season is very difficult to defend", said Robertson.

The Colonels finish the season against Highlands, Dixie, and Louisville Trinity before the district playoffs start.

"We have good tests in front of us, but we take them one game at a time", said Robertson. "We want to play at a high level and a consistent level, and we're starting to do that."


Sunday, Dec 3

High School Basketball
Lloyd
0
Goshen
0
Ohio Valley Hoops Classic
Cooper
0
Delaware Christian OH
0
53,191 Games AND counting
in our database