Team Preview: Holy Cross
11/14/2012 - by Ryan Roberts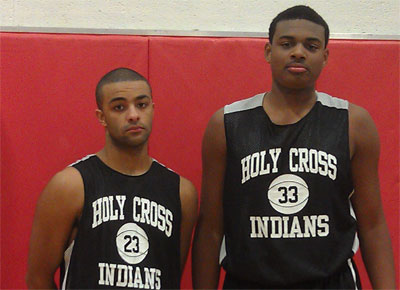 Campbell, McClendon Look To Lead Indians

Last year the Holy Cross Indians went 28-3 and won not only the 9th Region All "A" Classic Championship, but also the State All "A" Championship. Heading in to the 2012-2013 season, Holy Cross will once again have high expectations but have to prove themselves to the rest of Northern Kentucky and the 9th Region.

The Indians were ranked #5 in the preseason coaches poll but will try to replace the toughness that was a staple of last seasons' senior class, led by Jake Burger and Travis Thompson. Burger was "Mr. Do It All" for the Indians last year, averaging 18 ppg, 6 rpg, 3 apg, and 3 spg, while Thompson was the point guard and averaged 6 ppg and 3 apg.

"That group brought great intensity at the defensive end," said Goetz. "It allowed us to play tremendous pressure defense. They had great leadership."

Coach Erik Goetz likes the make up of this years' team, despite losing 5 seniors.

"We have a very experienced team with 7 seniors, led by All Conference players in Tony Campbell and Christian McClendon. We also have several other guys who got to play and gain experience in Burt Pouncy (5'9 Sr G) and Freshman Markale McClendon. Both came off the bench last year and helped us," Goetz continued. "We hope to build off last years' success."

Campbell is a 6'8 forward that is committed to Ohio University and led the team with 20 ppg, 13 rpg, and 5 bpg. Campbell had a reported 16 offers and chose Ohio over Kent State, Jacksonville, and Bowling Green when he made his decision.

"The great thing about Tony is this year we have him for an entire preseason," said Goetz. "Last year he transferred in and wasn't eligible until the day before our first game. We're excited about having him for a summer and preseason. He has shown great improvement as a result and I think, as dominating as he was last year, he can be even better this year."

Trying to replace some of Burger's production will be 6'1 Christian McClendon who looks to improve on his 12 ppg and 4 rpg averages of a year ago.

"My role this year will be to score more and try to find Tony, while also getting others involved with the 3 point shot."

Travis Gabbard is another senior counted on to try and fill the void left by Burger. Gabbard, who is also the starting quarterback for Holy Cross, is a 6'2 guard that had a very good summer and can shoot the ball well.

"He's going to have to have a good year for us at both ends if we are going to be successful," said Goetz.

A few newcomers will be seen in an Indian uniform this year as well.

"Blake Tiberi and Nate Cox are two other seniors that we're hoping can be contributors this year," Goetz said. "Nate didn't play his sophomore year and Blake didn't play last year but they give us shooting on the perimeter and some veteran play."

Tiberi is also a standout baseball player who is committed to the University of Louisville.

Those two, along with 6'7 Senior Will Knochleman have Coach Goetz and his staff excited about the possibilities at both ends of the floor.

"We're excited about our depth. Ball Handling should be a strength of this years' team along with pressure defensively. We're going to try and push the tempo. Our plan is to attack you at both ends and hope that our guys that we're asking to do a little more this year can play their roles."

Expect Holy Cross to use a point guard by committee gameplan, despite Markale McClendon being counted on to handle the majority of the duties and really open some eyes this year, according to his coach.

Standing in the way of the success of this Holy Cross team and their goals, however, will be the always tough 35th district of Holmes, Covington Catholic, and Beechwood.

"This district is a bear. It's always difficult with Holmes and Covcath," said Goetz. "We're never expected to come out of the district but we've been very competitive and we've made strides winning the All A Region, All A State, and beating Covcath during the regular season two years in a row. We feel like this could be our year to make some noise in the region and I like our chances."

"It's tough man," said Campbell. "You can never count out Covcath. That's our biggest goal right now. Focusing on Covcath and nobody else."

Coach Goetz has put together a schedule that should prepare the Indians for the tough district and 9th Region play in general. The Indians will play a home and away with perennial power Scott County as well as a game against Madison Central who is expected to be one of the most talented teams in the state.

"It's going to be hard but it's going to help us in the long run," said McClendon. "The teams that we're playing will help us prepare for the other 9th Region teams and show us what we need to work on. We want to go to the Region Tournament and win it."

Holy Cross will open their season December 4th against Newport. Due to a Senior trip, the holidays, and guys coming back from football, that gives Coach Goetz around 8 practices to get his team prepared. If his guys can respond the way he expects, the Indians should be a team that lives up to their expectations.

Sunday, Dec 3

High School Basketball
Lloyd
0
Goshen
0
Ohio Valley Hoops Classic
Cooper
0
Delaware Christian OH
0
53,191 Games AND counting
in our database