Football Teams Set for Semifinals
11/21/2012 - by NKS Editor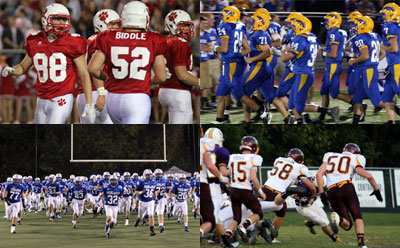 Four Northern Kentucky teams remain in the State Football Playoffs. Beechwood, NewCath, Highlands and Cooper will all play this Friday night for a chance to move forward to the State Championship game. Good luck to all the teams!

CLASS 1A – Mayfield at Beechwood
Mayfield (12-1) has been a major roadblock for Beechwood (9-4) the past three years losing 3 consecutive Semifinals to the Cardinals. The Tigers will play this Semifinal game at home as they look to break that streak and make their first trip back to State since 2008.

CLASS 2A – NewCath at Somerset
Somerset (11-2) defeated Danville last week 31-7 and will now face Newcath (9-4). Both teams come into this game with 7 game winning streaks. Since 2005, the Breds have defeated the Briar Jumpers in their 2 previous matchups (2005, 2006). NewCath was knocked out early last year by Holy Cross but looks to return back to State where they won in 2010.

CLASS 4A – LexCath at Highlands
Lexington Catholic (11-2) defeated Boyle County last week 27-16 while Highlands (12-1) beat CovCath 28-13. Highlands has won the past 3 playoff games against the Knights. Last year they won 42-21 at LexCath. LexCath last beat Highlands in 2005 17-0. The Bluebirds are looking for their sixth straight State Championship.

CLASS 5A – Cooper at Harlan County
Cooper started their football program in 2008 with a 2-8 record. The Jaguars are now 12-1 this season, setting all kinds of school football records, and find themselves one game away from the Class 5A State Championship game. The Jaguars defeated Franklin County last week 40-27 on the road. All their playoff games have been on the road this year and they will now travel to play the Black Bears of Harlan County. Harlan County (11-2) beat Pulaski County last week 46-12. This will be the first game between the two football programs.

Sunday, Oct 1

52,023 Games AND counting
in our database