NKYSports.com Top 10 (December 16th)
12/16/2012 - by Ryan Roberts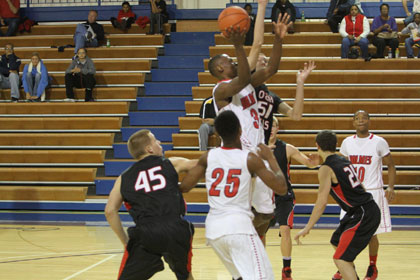 9th Region Top 10 – 12/16

1. Newport Central Catholic (6-0)
Why: The Breds went 3-0 this week and improved to 6-0 on the season and are now 1 of 2 teams left in the 9th region that are undefeated. Here is a recap of their week:

12/12: Newcath 65 Boone Co 41 – Breds were led by a trio of double-digit scorers with Nick Seibert (18), Drew McDonald (13), and Zach Pangallo (12) all pacing the Breds. Seibert got the Breds off to a hot start as he dropped 16 in the first quarter. If Seibert can consistently get in double figures, it could mean trouble for the rest of the region. Kid has all the tools to be an elite player in this region. Size, athleticism, and versatility.

12/14: Newcath 75 Glen Este, OH 49 - It was all Newcath Friday night as they pounded the Ohio squad by 26, led by Sophomore Drew McDonald's 22 points.

12/15: Newcath 63 Christian Academy Louisville 34 - In a game that was within 1 point at the half, the Breds turned up in the second half, blowing out a potential 7th region All A Classic contender behind the front court duo of Drew McDonald (18 pts) and Jake Schulte (10 pts)

Overall: Solid week for the Breds as they continue to show why they are considered the top team in the region with balanced scoring across the board. Breds will be in action at home this week Tuesday night (12/18) against Lloyd and Friday night (12/21) against Holy Cross, in what could be a preview of the 9th region All A Classic Championship in a month. Newcath players are definetly ready for that game and feel they owe Holy Cross some payback for last seasons' loss in the All A region championship.

2. Holmes (9-0)
Why: It was another 3-0 week for the Bulldogs as they improved to 9-0 with wins over a 9th region team and two wins in the Kentucky Farm Bureau Classic at the Eastern Kentucky Expo Center. Let's take a look at their week:

12/11: Holmes 71 St. Henry 57 – In a game that wasn't as close as the score might indicate, Holmes put three guys in double figures with sophomore James Bolden leading the way with a career high 26 pts. The front court duo of Quentin Chames and Chris Englemon also had solid nights with 13 pts and 8 rbs apiece.

12/14: Holmes 84 New Rochelle (NY) 69 - Friday night the Bulldogs got the statement win that they had been lacking with the early season schedule. Consistency and balance helped the Dogs get the W as James Bolden finished with 22 pts, 9 ast while senior Quan Palmer also had a 20 point night. Senior BJ Coston chipped in 13 pts and senior Chris Englemon finished with a double double at 11 pts, 12 rbs. Holmes got the win despite a 40 point performance from two sport stud Joe Clark. Clark is receiving D1 interest in both football and basketball.

12/15: Holmes 71 Breathitt County 37 – After being up just 8 at the half, Holmes turned the defense up in the second half, outscoring Breathitt County 43-17. Holmes was once again paced by sophomore James Bolden who finished with 18 pts, 8 rbs, and 6 ast. Quan Palmer (15), Chris Englemon (13), and Quentin Chames (10) also reached double digits for a balanced scoring attack.

Overall: Holmes continues to be one of the most balanced teams in the region, consistently getting 3 or 4 guys in double figures every night, led by sophomore James Bolden. Bolden has been very good for the Dogs early in the season and is quietly throwing his name in the conversation as not only the best all around point guard in the region, but also best player in the region. Bolden is in double figures every night and getting atleast 5 in two or more other categories. Holmes will be at home this week against Simon Kenton (Tues 12/18), Harrison County (Fri 12/21), and then Saturday against the winner of Russell and Scott in the Stop-DWI Holiday Classic.

3. Covington Catholic (7-1)
Why: We've got a new #3 in the rankings this week as the Colonels move up one spot from #4 last week after a 2-1 showing.

12/11: Covcath 97 Conner 62: In arguably their best offensive performance of the young season, the Colonels were three points short of putting a Benjamin up on the score board behind 5 guys in double digits. Nick Ruthsatz led the Park Hills school with 23 points but it was the performances by Zach Tobler (19), Nick Frederick (15), Bo Schuh (11), and Ben Heppler (10) that really make this such an impressive win.

12/14: St. Xavier 87 Covcath 78- The Colonels suffered their first loss of the season Friday night in a road loss to Louisville St Xavier. Covcath got 27 points from Nick Ruthsatz and put three others in double figures but it wasn't enough.

12/15: Covcath 80 Campbell County 57 - In another offensive show, the Colonels drilled a young Campbell County team by 23 behind 30 points from Nick Ruthsatz, 13 from Nick Frederick, and 12 points, 8 rebounds from sophomore Bo Schuh.

Overall: Covcath is showing improvement. Early on it was the Nick Ruthsatz show but with the other guys coming around and consistently getting in double figures, they could continue to climb up the rankings as they start meeting some of the other top teams. One coach told me, when talking about Covcath. "Covcath is really, really good. They're really rolling right now." The Colonels' only game this week is Friday night (12/21) against Winton Woods, OH.

4. Cooper (4-2)
Why: The Jags went 2-1 this week with wins over Conner and Campbell County, but a loss to Bishop O'Conner out of Virginia in the Toyota Classic at Scott County High School.

12/10: Cooper 61 Conner 50 - In a 33rd district battle in Union, the Jags improved to 1-0 in district play behind big games by AJ Collins and Spencer Holland. Cooper led by 19 after3 and subbed freely throughout the 4th to give you the final.

12/11: Cooper 50 Campbell County 46 - Jags went on the road Tuesday night and picked up a win behind 10 points apiece from junior Spencer Holland and sophomore Colin Hathorn.

12/15: Bishop O'Connell (VA) 57 Cooper 43- Cooper was in the game throughout by a rough few minutes late in the game allowed a very talented Virginia team to pull away for the final. B.O.C features 4 D1 prospects, including 2014 4* SG Melo Trimble, who recently committed to Maryland.

Overall: The Jags falling a spot in the rankings had nothing to do with their loss, but more due to the fact that Covcath was so impressive against common opponents. Cooper will continue to improve throughout the season as their football guys get back in the swing of things. A 2 point loss to #1 Newcath in their first game, despite being short handed, shows what this team is capable of and how deep they are.

5. Dixie Heights (5-1)
Why: The Colonels won both of their games this week behind 51 points from Brandon Hatton and have now won 5 straight after a loss to Newcath in the opening night.

12/11: Dixie Heights 60 Highlands 59 - After being down 3 at the half, Dixie turned things around in the second half and were able to hold on after Brandon Hatton sealed the game at the free throw line in the final seconds of the game. Hatton finished with 20, while junior Adam Daria chipped in 12.

12/15: Dixie Heights 64 Franklin County 59 - The Colonels were able to get an overtime win over the Frankfort team behind a game high 31 points from Brandon Hatton. Hatton is now 49 points shy of the school record 1,880 points.

Overall: Dixie stays in the #5 spot after rattling off 5 straight wins. Brandon Hatton has been getting his points but with each game, we see the role players contribute more and more. As their youth gets better and gains more experience throughout the year, this will become a team that could possibly upset someone currently ahead of them in the rankings.

6. Newport (4-2)
Why: The Wildcats went 3-0 this week to retain the #6 spot in the rankings after picking up 2 road wins.

12/12: Newport 62 Lloyd 48 - Wednesday night, the Wildcats travelled to Erlanger and came away with a 14 point win behind 22 points from JaSean Short and 14 from JaQuan Short.

12/14: Newport 75 Campbell County 71- The Wildcats picked up another road win Friday night against former coach Arik Russell and his Camels. JaSean Short led the way with 21 points.

12/15: Newport 80 St Patrick 43 - It was all Cats everything Saturday night as Newport defeated 10th region St. Patrick behind a double double from senior Arroyal Wright (16 pts, 10 rbs) and 13 points from JaSean Short.

Overall: Newport is another team that could be dangerous come tournament time. They have a lot of athletes and the Short Brothers (JaSean and JaQuan) make the Wildcats a very tough match up for opposing teams. We should know a lot more about the Wildcats Monday night as they travel to Alexandria for a DII conference match-up with Bishop Brossart. Newport will host Villa Madonna Tuesday night (12/18) and then be at Bellevue Friday (12/21) and Saturday (12/22) in the Swauger Holiday Classic. Newport opens up with Williamstown Friday night.

7. Holy Cross (3-3)
Why: The Indians evened their record at 3-3 this week with 2 wins and a loss.

12/11: Holy Cross 68 Scott 49 - Tony Campbell stole the show in this game as he finished with a triple double (11 pts, 15 rbs, 10 blks) and was 2 assists shy of a quadruple double. Burt Pouncy led the Indians in scoring, however, with 16 points.

12/14: Holy Cross 58 Harrison County 54 - The Indians got a come from behind win on the road Friday night as they took down the Thoroughbreds behind 24 pts, 18 rbs, and 8 blocks from Tony Campbell and a career high 15 pts from freshman Markel McClendon.

12/15: Scott County 90 Holy Cross 72 - In a game at Scott County in the Toyota Classic, the Indians fell to state power Scott County despite a balanced scoring attack. Tony Campbell (23), Markel McClendon (16), Christian McClendon (12) and Travis Gabbard (11) all reached double figures.

Overall: Holy Cross showed what they are capable of against Scott and showed a nice balanced attack against a very good Scott County team. Markel McClendon becoming more aggressive and contributing could be trouble for other teams. The key is getting consistency from everyone if this team is going to contend for a district and region title. Holy Cross will really find out what they're made of Friday night (12/21) as they travel to #1 Newcath. They will turn around the next night and host Colerain, OH who has already knocked off one 9th region top 10 team this season (Ryle).

8. Ryle (5-2)
Why: The Raiders went 2-1 this week with wins over Grant County and Conner but were overmatched Friday night in a loss to Scott County.

12/11: Ryle 72 Grant County 66 - The Raiders went on the road and picked up a 6 point win behind 22 points from junior center Will Stuhr and 16 points from senior Travis Pavy.

12/13: Ryle 79 Conner 73 - In a Thursday night home 33rd district game against rival Conner, the Raiders picked a big district win against Conner behind 25 points and 16 rebounds from Will Stuhr. The Raiders also got big scoring outputs from Drew Mays (22) and junior guard Tanner White (19).

12/14: Scott County 76 Ryle 36 - Tough night for the Raiders Friday night as they were outscored by the Cardinals' back court. If there is a bright spot to look upon, it is that juniors' Will Stuhr and Tanner White both reached 10 points in the loss.

Overall: Ryle fell a couple spots, but again, it had nothing to do with a loss to an out of region opponent, and more to do with how impressive the other teams were. Will Stuhr was consistently good for the Raiders this week and the emergence of Tanner White could be huge for Raiders in a 33rd district title run. The Raiders will find out exactly where they are as they travel to 33rd district rival Cooper Tuesday (12/18) night and will also travel to Simon Kenton Friday night (12/21) in an 8th/9th region battle.

9. Highlands (3-2)
Why: The Birds went 1-2 this week with a win over Bracken County but suffered a big loss to Brossart in a DII conference game and a close 1 point loss on the road to #5 Dixie.

12/11: Dixie Heights 60 Highlands 59 - It was a tough loss for the Birds on Tuesday night as they dropped a thriller in the final seconds. Brandon Hatton sunk free throws in the final seconds to give the Colonels the win. Drew Houliston led the Birds with 22 points.

12/14: Bishop Brossart 68 Highlands 38 - Not much to report here as the Birds were completely overmatched and it was just "one of those nights."

12/15: Highlands 57 Bracken County 53 - In their third road game of the week, the Birds picked up a 4 point win behind the trio of Drew Houliston (17 pts), Bailey Witte (14 pts), and Nick True (10 pts).

Overall- Somewhat of a "Jeckyl and Hyde" week for the Birds as they take #5 Dixie down to the wire and lose, despite holding a halftime lead, then get blown out of the gym Friday night. I moved the Birds up to #9 because of their performance against Dixie. This is a team that isn't close to peaking. The Birds will travel to the Woodford County Thursday night for a 9th/7th region game against Jeffersontown in the first round of the Woodford County Invitational.

10. Conner (3-3)
Why: The Cougars have lost 4 straight and lost 3 road games this week, but now that they are at full strength, it is tough not to include them in the top 10.

12/10: Cooper 61 Conner 50
12/11: Covcath 97 Conner 62
12/13: Ryle 79 Conner 73

Overall: Conner was without Drew Barker up until the Ryle game. With him being back, it will take pressure off of Brady Padgett and Sam Hemmerich to put up the big numbers that they've been putting up so far. Barker had 16 against Ryle and as he gets back in the swing of things, you'll see Conner move up in the rankings. The Cougars' schedule this week was brutal as they played 3 of the top 7 teams, including 2 of the top 4. Conner has a chance to solidify their spot in the top 10 this week with a home game Tuesday night (12/18) against #5 Dixie.

Top Games this week:
Monday:
#6 Newport at Bishop Brossart 7:30 (NKAC Division II Match Up)

Tuesday:
#5 Dixie Heights at #10 Conner 7:30
#8 Ryle at #4 Cooper 7:30 (33rd District Seed Game)
Simon Kenton at #2 Holmes

Friday: Game of the Week
#7 Holy Cross at #1 Newcath
Rematch of last seasons' 9th region All A Championship. Potential Preview for this years' 9th region All A Region Championship.

For more 9th region coverage, follow me on twitter @Ryan_ky0203 and remember to check back every week for an updated 9th region rankings list.

Sunday, Oct 1

52,023 Games AND counting
in our database