9th Region Rankings 12/23
12/23/2012 - by Ryan Roberts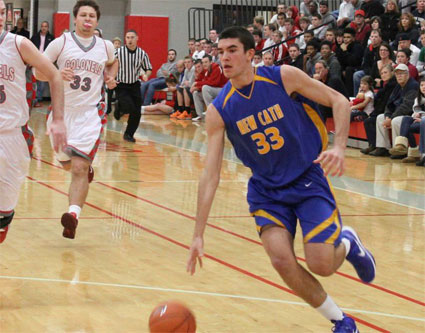 9th Region Rankings/Notebook 12/23

1. Newport Catholic (8-0)
Why: The Breds had a very impressive week and remained unbeaten.

12/18: Newcath 58 Lloyd Memorial 28 - In an impressive defensive effort, the Breds held Lloyd to their lowest scoring output of the year. Offensively, it was the Michael Beuter show as he finished with 23 pts, while Jake Schulte chipped in 15.

12/21: Newcath 54 Holy Cross 34 - It was another defensive show for the Breds as they held another team to a season low in points scored. Jake Schulte led the way with 14 pts, 8 rbs with Nick Seibert chipping in 11 in the win.

Overall: Newcath really showed this week just how good they are and can be with two dominating victories. The key has been their defense so far. The front court play at both ends by Seibert, Schulte, and McDonald has made it extremely tough for opposing teams. The Breds will be at the Ashland Invitational starting Thursday December 27th. Newcath opens the tournament against 16th Region Boyd County (6-5).

2. Holmes (12-0)
Why: The Bulldogs stayed perfect with 3 wins and remained the only other unbeaten team in the 9th region.

12/15: Holmes 66 Simon Kenton 57 - The Bulldogs opened the week with a tough 'W' over 8th region Simon Kenton behind 29 pts, 5 rbs, and 5 stls from sophomore James Bolden. Holmes got down 6 early in the 4th quarter but 8 straight points by Chris Englemon, who finished with 15 pts, 11 rbs, helped Holmes pull away.

12/21: Holmes 82 Harrison County 73 - In a game that saw a lot of pressing and running from both teams, Holmes outgunned the Breds behind 23 pts, 5 rbs, and 5 ast from James Bolden. Junior Daequon Glover chipped in a career high 18 pts and Chris Englemon finished with 13 pts, 8 rbs in the first game of the Stop DWI Classic held at Holmes.

12/22: Holmes 74 Scott 69 - The Bulldogs led by as many as 19 and Scott was able to get within 3 in the final minutes but free throws from Daequon Glover helped Holmes seal the deal and pull away down the stretch. Glover finished with 16 pts, while BJ Coston had a season high 21 points. James Bolden continued his strong play with 15 pts, 7 rbs, and 6 ast. Chris Englemon chipped in 8 pts, 10 rbs in the championship game of the Stop DWI Classic.

Overall: Despite the somewhat close games and not being able to finish with a big lead, Holmes showed that they can be scary good in stretches with their outside shooting. Biggest thing for this team is to continue to get better offensively and keep smothering teams with their defense. James Bolden continues to keep his name in the 9th region POY conversations but the biggest key to this week for Holmes was the emergence and strong play of Glover, as well as the bench contributions defensively from juniors' Keyontae Herndon and Marcus Hill. Holmes will be in Florida Thursday the 27th through Saturday the 29th in the Rock Holiday Classic. They open up with Lyman, FL.

3. Covington Catholic (8-1)
Why: The Colonels only played one game this week but came away with a win over Winton Woods, OH.

12/21: Covcath 53 Winton Woods 48 - Despite the Colonels' leading scorer, Nick Ruthsatz, being held to just 4 pts, Covcath was able to come away with a 5 point win at home behind 16 points from Zach Tobler, 13 from Nick Frederick, and 10 from sophomore Bo Schuh.

Overall: Not much has changed since last week. The Colonels continue to get production from other guys but the most impressive part about this win is that they did it with their leading scorer being held to 4 points. Balance and consistency is a key for this team. If they can get both from their starting 5 and bench, this team will become that much tougher to beat. Covcath will be at the Lloyd Memorial Invitational this week, starting Thursday. They will open with Ludlow (12/27), then play Conner (12/28), and wrap up pool play against Nicholas County Saturday (12/29). That night, they will either play in the 3rd place or championship game.

4. Cooper (7-2)
Why: The Jags picked up three wins this week and have now only lost to the #1 team in the region and a very talented Virginia team.

12/18: Cooper 59 Ryle 57 - It was a 33rd district battle and rivalry game, but Cooper was able to get the win with AJ Collins hitting a runner in the lane in the final seconds. Cooper was led by Louis Maniacci with 27 pts, 12 rbs.

12/21: Cooper 76 Augusta 63 - Three Jags reached double figures in scoring to help lead Cooper to their 6th win of the season. Spencer Holland (16), Zach McNeil (15), and Drew Shelton (15) all had solid showings in the first game of the US Bank Classic held at Mason County High School. Key to the game? Rebounding. Cooper outrebounded Augusta by 20. (37-17)

12/22: Cooper 47 Mason County 34 - The Jags played their best defensive game to date as they knocked off the Royals on their home court in the final game of the US Bank Classic at Mason County's Fieldhouse.

Overall: Three solid wins for the Jags. Unless they lose, I wouldn't expect to see them move out of the top 4 any time soon. The one thing that has impressed me the most with them so far is the balance that they've had and depth. We have seen a number of different guys lead them in scoring which makes it tough for other teams to gameplan for. The Jags will be at Lloyd this Thurs (12/27), Fr (12/28), and Sat (12/29). The Jags will play Lloyd Memorial, Clinton County, and a team TBD on Saturday. A potential championship game with Covcath could give NKY a better idea of which one should be 3rd and which one 4th in the rankings.

5. Newport (8-3)
Why: This might not be a popular pick but the Cats continue to win and have now won 4 straight, including two on Saturday night to win the Swauger Holiday Classic Championship at Bellevue.

12/18: Newport 74 Villa Madonna 60 - It was an all around effort for the Wildcats as Marquis Commodore (13), Jaquon Short (13), Cody Pearson (12), Jasean Short (11), and Arroyal Wright (10) all reached double figures in scoring.


12/21: Newport 69 Williamstown 35- Jasean Short and Jaquon Short led the Wildcats with 26 and 13 points.

12/22: Newport 63 Lloyd 48 - Another solid showing for the Cats as Jaqon Short (16), Marquis Commodore (15), and Marquisl Commodore (14) all got in to double figures to get the Wildcats to the championship game later that night.

12/22: Newport 73 Carroll County 72 - The Wildcats won the Swauger Holiday Classic Championship behind 17 points from Jasean Short. Cody Pearson (16) , Marquis Commodore (10), and Jaquon Short (10) were all key parts of the balance in the win.

Overall: The Wildcats continue to win. I know some will question their schedule but this is a very good team. They are a very balanced group, consistently getting 3 and 4 guys in double figures scoring. We should know more about them after the New Year.

6. Holy Cross (4-4)
Why: The Indians suffered a big loss but also picked up a solid win the next night.

12/21: Newcath 54 Holy Cross 34 - Rough night for the Indians as they were completely outmatched against the #1 team in the region. Tony Campbell was held 10 points under his scoring average with 8 but Christian McClendon was a bright spot with 12 points.

12/22: Holy Cross 62 Colerain, OH 58 - Tony Campbell bounced back in a big way as he led the Indians with 26 pts, 8 rbs but it was the play of freshman Markel McClendon, who scored 10 of his 14 points in the 4th quarter, that allowed the Indians to get the win.

Overall: I think you will likely see Holy Cross around 5-7 throughout the year. Obviously they aren't in the elite group in the region, which was shown by the NCC loss, but a win over a team like Colerain shows that they are capable of beating teams similar, such as Newport and Ryle. Holy Cross has the talent but, IMO, are still looking for guys to find their roles off the bench.

7. Ryle (5-4)
Why: The Raiders lost both of their games this week but a win over Conner last week keeps them in the #7 spot.

12/18: Cooper 59 Ryle 57 - The Raiders almost pulled off the upset but a last second shot sunk their hopes. Ryle was led by 19 second half points from Mark Fussenger and 17 from Drew Mays.

12/21: Simon Kenton 68 Ryle 60 - The Raiders went on the road and left with a loss as the Neers were too much for the Union squad.

Overall: Two tough losses for the Raiders but Cooper is a top 5 9th region team and Simon Kenton is a very good 8th region team that was up 6 on Holmes in the 4th quarter when they met a few days earlier. Ryle has seen several unexpected players step up which can only help the Raiders going forward. The Raiders will play Lewis County Thurs (12/27) in the Red River Classic.

8. Conner (3-4)
Why: The Cougars picked up a big win this week to move up in the rankings.

12/18: Conner 75 Dixie Heights 61- Behind 26 points from Drew Barker, the Cougars solidified their spot in the top 10 with a big home win over the Red Colonels. Sam Hemmerick (16), Landon Lamblez (12), and Brady Padgett (10) also reached double figures for the Cougars. Conner will play again this Thurs, Fri, and Sat in the Lloyd Memorial Invitational against Nicholas Co (12/27), Covcath (12/28), and Ludlow (12/29).

9. Dixie Heights (6-3)
Why: The Colonels dropped 4 spots after two losses this week.

12/18 - Conner 75 Dixie Heights 61
12/21 - Mason Co 53 Dixie Heights 48
12/22 - Dixie Heights 55 Augusta 51 @ Mason County

Overall: The Colonels were going to fall regardless because of the loss to Conner on the road, but I put them at 9 because of the injury to Brandon Hatton. Hatton suffered a sprained ankle which really hurts their offense. Adam Daria stepped up with 12 points against Augusta but in order for Dixie to move up, they will either have to get Hatton back and healthy or get more production from their younger guys. Dixie has a lot of talent in the sophomore class but inexperience would hurt them against teams ahead of them in the rankings. I'd expect Dixie to move up once Hatton comes back at 100%.

10. Highlands (4-4)
Why: The Birds went 1-2 this week, but lost to some solid out of region competition.

12/20 - Jeffersontown 67 Highlands 48
12/21 - Highlands 59 Frankfort 52
12/22 - Dunbar 76 Highlands 45

Overall: All three games were apart of the Woodford County Invitational which saw Bailey Witte make the all tournament team. Highlands is going to struggle against fast, athletic teams (see PLD and J'Town) but they have enough talent to possibly upset a team or two ahead of them.

Top Games This Week:

The place to be this week will be the Lloyd Memorial Invitational starting Thursday and running until Saturday night. This is consistently one of the better tournament around and has really grown over the years. Brackets were set up to pit Cooper and Covcath against eachother in the finals but with Conner getting Barker back healthy, it wouldn't surprise me to see an all 33rd district final.

Saturday, Dec 2

High School Football
Cooper
11
F
Bowling Green HS
28
Class 5A State Championship
High School Basketball
Ludlow
0
Bracken County
0
Ryle
0
Gallatin County
0
Holmes
0
Nicholas County
0
St. Henry
0
Doss
0
Riverview Meat Tip-off Classic
Boone County
0
Tates Creek
0
Lloyd
0
Sycamore
0
Ohio Valley Hoops Classic
Walton Verona
0
Marion County
0
Pendleton County
0
Franklin Cty KY
0
Girls High School BBall
Highlands Latin
0
Dayton HS
0
Scott
0
Newport
0
Donna Murphy Classic
Villa Madonna
0
St. Henry
0
Mercy
0
Dixie
0
North Oldham
0
Pendleton County
0
Holmes
0
Carroll County
0
Beechwood
0
Frankfort
0
Walton Verona
0
Henry County
0
Notre Dame Academy
0
Montgomery County
0
Boone County
0
Shelby County
0
Highlands
0
Augusta
0
Donna Murphy Classic
Cooper
0
Louisville Assumption
0
Holy Cross
0
Winton Woods
0
Hoops for Harvest
Simon Kenton
0
Frederick Douglass
0
Hoops for Harvest
Campbell County
0
Martin County
0
Donna Murphy Classic
Ryle
0
Lawrence Central IN
0
Hoops for Harvest
53,191 Games AND counting
in our database