9th Region Rankings/Notebook: 2/3
2/3/2013 - by Ryan Roberts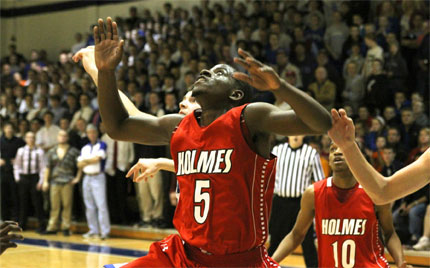 9th Region Rankings/Notebook – 2/3

1. Holmes (24-0)
Why: The Bulldogs broke the school win streak this week and remained undefeated.

1/29: Holmes 71 Dixie Heights 56 - The Dogs trailed by 2 at the end of the first quarter but used a 24-9 second quarter to pull away and put the game out of reach. James Bolden finished with 18 pts, 6 ast to lead 5 double digit scorers. BJ Coston (13 points), Chris Englemon (13 points, 6 rebounds), Armani Housely (12 points, 5 rebounds), and Quentin Chames (11 points) were the other Bulldogs to reach double digits.

2/1: Holmes 67 Highlands 37- It was all Bulldogs from the start as they raced out to an 8-0 lead in the first 1:30 of the game and never looked back as they led 19-6 at the end of one and 36-14 at the half. It was another balanced night for the Dogs as BJ Coston led the way with 16 points, while Quan Palmer (14 points), James Bolden (12 pts, 6 ast), and Chris Englemon (10 points). Junior Armani Housely was one point away from double digits with 9 points.

Overall: This week proved to be arguable the most balanced week that Holmes has had this season. The emergence of Armani Housely has made Holmes even more dangerous as he provided a spark off the bench against Dixie and had 9 points in his first start of the year against Highlands. If Holmes can continue to see him and Chames improve, with guys like Marcus Hill and Keyontae Herndon being a defensive presence off the bench, this team is only going to get tougher to stop as the season winds down. It should also be noted that Holmes broke the 2009 state title team record of 22 consecutive wins, with the win over Dixie.

Next: 2/5 at Boone County, 2/8 v Newcath

2. Newport Catholic (24-2)
Why: The Breds have now won 12 straight with 2 more wins this week.

1/29: Newcath 55 North College Hill, OH 51- The Breds had three players in double-figures led by Nick Seibert with 15 points. Once again, the front court duo of Drew McDonald (13 points, 7 rebounds) and Jake Schulte (10 points, 8 rebounds) proved to be too much for the opposition to handle.

2/1: Newcath 58 Bishop Brossart 43- It was a packed house out in Alexandria but the Breds were able to pick up the win on the road in convincing fashion. Newcath led by 10 at the half and extended the lead each quarter in the second half. Michael Beuter led the way with 17 points, while Drew McDonald finished with 15 points. Nick Seibert and Zach Pangallo finished with 9 and 8 points, respectively.

Overall: It was another productive week for team on the hill. Defense continues to be the calling of this team and they certainly didn't disappoint with the dominating performance against a solid Bishop Brossart team. Zach Pangallo continues to solidify himself as one of the better pg's in the area, regardless of class. He is quietly having a solid season and is right around 8 ppg since being asked to do more with Nick Seibert going down with the injury.

Next: 2/8 at Holmes

3. Covington Catholic (21-4)
Why: The Colonels kept pace with the top two teams in the region this week by going 2-0.

1/28: Covcath 72 Scott 61- It was the Nick and Nick show as Nick Fredrick led all scorers with 27 points, while Nick Ruthsatz finished with 20 points in the win. Zach Tobler finished with 9 points for the Colonels.

2/1: Covcath 56 Holy Cross 48- Nick Ruthsatz led the Colonels with 20 points in the 35th district seeding game. With the win, the Colonels wrapped up the #2 seeed, which means nothing in the short run, but gives them momentum heading in to a rematch in 2 weeks. Sawyer Pauly had one of his best games of the year for Covcath with 16 points.

Overall: These were both big wins for Covcath as one came on the road against a tough Scott team and the other came against a team that they will have to beat in a couple weeks if they want to get to the region tournament. Covcath might be the #3 team in the rankings but they will be an extremely tough out come tournament time. Ruthsatz and Fredrick continue to make a case for best back court in the region.

Next: Tues 1/5 v Cooper ; Friday 1/8 at Dixie

4. Cooper (17-4)
Why: It was another 2-0 week for the Jags.

1/28: Cooper 70 Pendleton Co 38- AJ Collins led the way for the Jags with 17 points, while Zach McNeil finished with 13 in the win. Junior Spencer Holland and Senior Drew Shelton finished with 9 and 8 points, respectively.

2/1: Cooper 60 Simon Kenton 47- Zach McNeil had another solid showing as he led the Jags with 16 points and 5 rebounds. Cooper held just a two point lead at the half but the duo of McNeil and AJ Collins (14 points) helped wear down Simon Kenton in the second half.

Overall- It had been a regular for me to talk about Cooper's defense each week in the rankings. This week is no different. McNeil and Collins continue to show why they are one of the best back courts and 1-2 scoring punches in the area but what is overlooked is their defensive presence. Cooper is in the same boat as Covcath. They will be a tough out come tournament time.

Next: Tuesday 2/5 at Covcath, Friday 2/8 at Boone Co, Saturday 2/9 v Newport

5. Holy Cross (11-10)
Why: The Indians went 0-2 this week but got help with Newport losing.

1/29: Bullitt East 77 Holy Cross 63- The Indians went on the road against one of the best teams in the state but UK commit Derek Willis and Bullitt East proved to be too much.

2/1- Covcath 56 Holy Cross 48- In a 35th district match up, the Indians simply couldn't make enough plays down the stretch to get the win. Holy Cross got 14 points apiece from Tony Campbell and Christian McClendon in the loss

Overall- Not much you can take away from these two losses. Bullitt East is a top 5 team in the state and Covcath is ranked ahead of the Indians for a reason. Tony Campbell has been very consistent throughout the season, regardless of competition. The only problem is you never know which other player is going to step up along side. Christian McClendon has played well lately and the Indians will need that moving forward.

Next: Tuesday 2/5 v Highlands ; Thursday 2/7 v Beechwood ; Saturday 2/9 v Conner

6. Dixie Heights (12-11)
Why: The Red Colonels lost their only game of the week but it came to the top ranked team in the region.

1/29: Holmes 71 Dixie 56- Austin Schreck and Brandon Hatton led Dixie with 15 and 12 points, respectively.

Overall- Outside of a rough 2nd quarter, Dixie played Holmes to a tie the other three quarters. They are much better than their record, hence why they are still ranked #6.

Next: 2/5 v Ryle ; 2/8 v Covcath

7. Boone County (13-11)
Why: The Rebels went 1-1 this week, knocking off last week's #5.

1/29: Boone 67 Newport 61 (OT)- Boone jumped out to a 10-0 lead and led wire to wire, until a late three sent the game to overtime. The Rebels outscored Newport 11-5 in the extra session to get the win. Hunter Hixenbaugh led Boone with 16 points to pace 4 double digit scorers. Jesse Schulz (13 points), Brennan Stanley (12 points), and Bret Mayberry (10 points) were the other Rebels in double figures scoring.

2/1: Ryle 52 Boone Co 51- Brendan Stanley led the Rebels with 20 points, while Hunter Hixenbaugh finished with 16 points in the loss. Ryle hit two free throws with 15 seconds left to go ahead and eventually win.

Overall: Boone moves up to #7 in the rankings after winning games against Newport and Conner in the past two weeks. The Rebels are young but continue to improve throughout the season. The upcoming week will let us know just how much they have grown up.

Next: Tuesday 2/5 v Holmes ; Friday 2/8 v Cooper

8. Newport (15-6)
Why: The Wildcats went 1-1 this week.

1/29: Boone Co 67 Newport 61 (OT)- The Wildcats committed 27 turnovers but were able to force OT after a Marquis Commodore 3 with time winding down. The Wildcats trailed the entire game and things didn't change in OT. Jaquon Short (21 points), Marquis Commodore (15 points), and JaSean Short (14 points) all finished in double figures scoring in the loss.

1/30: Newport 87 Riverview East Academy, OH 47

Overall- Newport lost a tough one on the road this week to an improving Boone Co team so they drop in the rankings to #8. Despite their solid record, Holy Cross is the only team ahead of them that they have beaten this year.

Next: Wed 2/6 at Dayton, Thurs 2/7 at St. Henry, Sat 2/9 at Cooper

9. Conner (10-11)
Why: The Cougars went 1-1 this week.

1/29: Conner 63 Beechwood 40- Brady Padgett and Sam Hemmerich led the Cougars with 19 and 17 points, respectively.


2/1: Scott 61 Conner 53- Drew Barker led the Cougars with 17 points in the loss.

Overall- About what most people expected when looking at the schedule for this week. Conner has a good front court with Padgett, Barker, and Hemmerich but inconsistent guard play is the reason they continue to float around the 8 and 9 spot.

Next: Tues 2/5 at Walton ; Fri 2/8 at St Henry ; Sat 2/9 at Holy Cross

10. Ryle (9-12)
Why: The Raiders went 1-0 this week.

2/1: Ryle 52 Boone Co 51- The Raiders got two free throws from Drew Mays to pull out the win over 33rd district rival Boone County.

Overall: The Raiders picked up a big win over Boone but simply haven't done enough to move up in the rankings. The one bright spot is the play of Drew Mays lately.

Next: Tues 2/5 at Dixie ; Friday 2/8 v Walton Verona

Top Games This Week:

Tuesday 2/5:
#4 Cooper at #3 Covcath (Top 5 match up)
#10 Ryle at #6 Dixie Heights
#1 Holmes at #7 Boone Co

Friday 2/8:
#2 Newcath at #1 Holmes (Top 5 match up)
#3 Covcath at #6 Dixie Heights
#7 Boone Co at #4 Cooper (33rd District Game)

Saturday 2/9
#8 Newport at #4 Cooper

Game of the week:
#2 Newcath at #1 Holmes
This is arguably the game of the year in the 9th region, as it features the top 2 teams in the region. Newcath will comes in 24-2, while Holmes should come in with a perfect 25-0 record, barring an upset. Both teams present match up problems for one another, but regardless, the winner of this game proves themselves as the best team in the region and favorite to get to Rupp once 9th region tournament play starts.

NKYSports.com Game of the Week Friday night will feature Covcath at Dixie Heights and can be watched both live and on demand at nkysports.com under the webcasts link. Coverage should begin around 7:20 pm.

Sunday, Oct 1

52,023 Games AND counting
in our database