Conner Cougars Football Preview 2013
7/21/2013 - by Ryan Roberts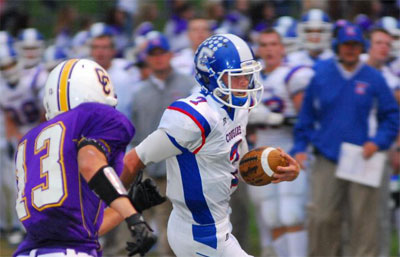 Coming into last season expectations were high for the Conner Cougars. Not only did they return one of the best playmakers in Northern Kentucky in Cameron Fogle, who is now at the University of Kentucky, they also returned one of the top quarterbacks in the country for the class of 2014 in 6'3 Drew Barker, who is now also committed to the University of Kentucky. The Cougars finished 9-3 and had their season ended prematurely in the second round of the playoffs by Franklin County in a 62-59 shootout.

Heading in to this season expectations will once again be high for the Hebron squad, which will not only be one of the best teams in Northern Kentucky, but also the state for Class 5A. The Cougars will try to prove themselves once again despite losing 17 seniors from last year.

"We continually work all year round," said Conner Head Coach Dave Trosper. "We're constantly looking for young guys to step up. Our classes range from 15-25 guys so when you have that type of turnover, you're going to lose great players each year but we look for that next man up."

The strength of this years' team will be an offense that returns the majority of the skill guys that helped Conner average 42 ppg, led by quarterback Drew Barker.

"Obviously everyone knows what Drew is and what he's going to do."

Coach Trosper continued.

"He's trying to bring the guys around him up to his level and I feel strong and confident that we have some guys that can do that."

Some of the targets that the coaching staff will be counting on to step up include senior receivers Andrew Way, Brian Loney, and Chris Creech. One of the surprise players, however, could end up being senior receiver Jesse McKeehan, if he can stay healthy. McKeehan has had a great "second season" and put in a lot of work in the weight room.

"I feel like this year we are going to be more balanced. From a skill standpoint, we feel pretty good about what we have coming in on the offensive side of the ball," said Coach Trosper.

If there is any weakness or question marks with this potent Cougar offense it is up front on the offensive line, as they graduated 4 starters. Despite that, however, Coach Trosper feels like this team can still excel.

"We've been like that every year (graduating starters up front). We've got to plug some new guys in but we've got 8 or 9 guys that we feel confident about on the offensive line. We'll see what takes place but we are always going to put up numbers."

When it comes to numbers, that was something talked about with Conner's defensive unit last season as they gave up 28 ppg. Coach Trosper is confident that this years' team will be able to improve on that number.

"We had three linebackers last year that were very young and had some inexperience combined with injuries. We've got some guys this year that we feel confident about."

Among that group being counted on to anchor the defense this year are junior linebackers Ryan Romey and Jacob Warickwho who will return as 2 year starters, as well as senior LB Zach Castleberry who has been injured but returns with 3 years of starting experience.

"We feel confident with what we're doing there. We're doing some different things and doing different wrinkles that I think are going to help us there."

Andrew Way and Jesse McKeehan will both be counted on to go both ways and provide more depth and experience at the linebacker and safety positions. In order for the defense to be successful, however, Coach Trosper said his team must force more turnovers to counter the amount of points his offense will put up.

With expectations being high, Coach Trosper has put together a schedule that will prepare his team for not only the regular season, but also the post season by allowing his team to be competitive and tested each week with a quality opponent in not only 5A district play but also out of district play.

"We play all Northern Kentucky because our Northern Kentucky (teams) are the best in the state. The competition is great and we've played it the past 3 years."

Besides the district opponents of Cooper, Scott, South Oldham, and Grant County, the Cougars will also play the annual rivalry game with Boone County, Holy Cross, who is two years removed from a state championship, as well as Simon Kenton, Campbell County, and Covington Catholic.

Despite the "hype" surrounding this years' team, Coach Trosper made it clear that nothing Is given and doesn't make expectations.

"Personally, my expectations are to win state every year, but predictions will get you in nothing but trouble. Bottom line is, if we go out and do the things we are coached and taught to do, the rest will take care of itself."

Conner opens their season Saturday August 31st at Thomas More vs county rival, Boone County.

Players to Watch:

Drew Barker (Senior QB : University of Kentucky Commit) - After rushing for 1400 yards last season and passing for over 2,000 yards, it's hard to believe that this kid will be back bigger, stronger, faster, and more mature for a senior campaign. Defensive coordinators will have nightmares trying to put together a game plan to stop a player with Drew's versatility. Drew has improved tremendously and it showed with his performance at the Elite 11 Quarterback Challenge. Look for Barker to put up huge numbers and go out with a bang.

Andrew Way (Senior WR/LB) - The Slot receiver returns as one of the more versatile players in Drew Barker's arsenal. Way rushed for 264 yards last season, while also having 285 yards receiving.Defensively, Way had 55 tackles last season. Expect Way to have an even bigger senior campaign with Cameron Fogle gone on both sides of the ball.

Brian Loney (Senior WR) - Barker's second leading receiver from a year ago (289 yards) returns for a senior year where he could put up even bigger numbers after a strong off season. Loney has looked solid so far through 7 on 7.

Jesse McKeehan (Senior RB) - This is a kid that was injured last season but has had a great off season and will be counted on to make an impact for the Cougars' offense this season. If he can stay healthy, Coach Trosper has high hopes for the athlete, who rushed for 465 yards last season and will also be counted on to be a part of the defense.

Chris Creech (Senior WR) - Creech only caught 7 passes last season but had 105 yards receiving. Expect his role to increase this season.

Ryan Romey (Junior LB) - Coming back as a 2 year starter, Romey is expected to be one of the leaders of the defense after gaining valuable experience last year. Romey had 61 tackles last season to go with an interception and fumble recovery.

Jacob Warwick (Junior LB) - Another player coming back as a 2 year starter, Warwick led the team in tackles last season with 82.

Zach Castleberry (Senior LB) - The senior comes back as a 3 year starter and looks to finish off his career by improving on 21 tackles he had a year ago. The key for Castleberry is to avoid the injury bug that has plagued him in past seasons.

Sunday, Dec 3

High School Basketball
Lloyd
0
Goshen
0
Ohio Valley Hoops Classic
Cooper
0
Delaware Christian OH
0
53,191 Games AND counting
in our database