Campbell County Leads Victory over Cooper
9/15/2014 - by Lizzie Kibler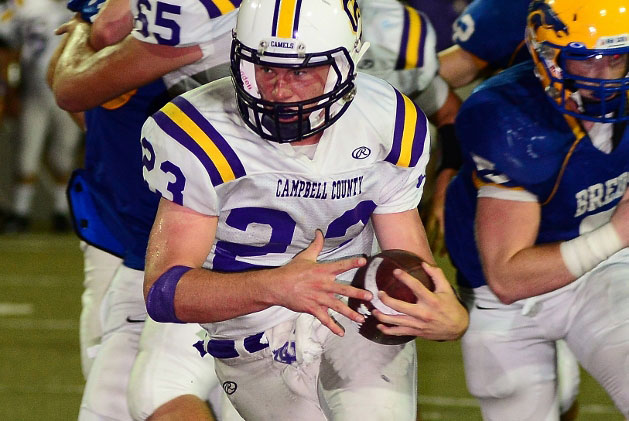 Campbell County Camels are now 3-1 in the season after their win over the Cooper Jaguars Friday night. The Camels' victory was led by quarterback, Carson Plessinger (#23) and running back Josh Carroll (#5).

The game opened up with the Jaguars driving down into Camel territory. Both defenses were strong, but when the Jaguars got in field goal range, the kick was no good. There was no scoring in the first quarter by either team.

The second quarter began with Plessinger driving the Camels into Jaguar territory with successful passes to Camels' Eli Mathews (#13), but the Camels failed to score. Later in the quarter, with the Camels driving, an interception was made by Jaguars' Tyson Jackson (#81) driving the Jaguars into Camel territory.

After a completed screen pass made by Jaguars' Billy Prickett (#2) to Torey Cordell-Armstrong (#27), Cordell-Armstrong scored a 32 yard touchdown. The extra point was good bringing the score to 7-0 Jaguars at the half.

Jaguars kicked off in the opening of the third quarter with a return by Camels' Eli Mathews. The Camels then took the drive into the Jaguars' territory. Camels' Plessinger ran to the 3 yard line setting up Josh Carroll to score a 3 yard touchdown run.

The third quarter ended with a tie 7-7.

The Camels started the final quarter with a drive into Jaguar territory which included Plessinger's run for 41 yards. That set up for a 27 yard field goal kick bringing the score to 10-7 Camels.

Several plays later, Plessinger almost scored a 21 yard touchdown, but was called back on a holding penalty. Fortunately for the Camels, Plessinger eventually scored a 10 yard touchdown with the extra point being good.

The game ended with the Camels winning 17-7.

Campbell County Camels will be playing another home game against the Conner Cougars next Friday.

Sunday, Oct 1

52,023 Games AND counting
in our database