Kentucky State Football Semifinals
11/26/2014 - by NKS Editor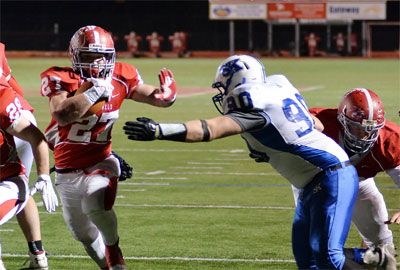 Out of the 6 Classes in the Kentucky State Football playoffs, Northern Kentucky has the chance to send 5 teams to 5 of those classes. Beechwood (Class 1A), NewCath (Class 2A), Highlands (Class 4A), Cooper (Class 5A), and Dixie (Class 6A) will each have that chance on Friday night.

Mayfield (12-1) at Beechwood (11-2) 7:30 PM
Is this the year Beechwood beats Mayfield? The Tigers lost 4 years in a row to the Cardinals from 2009-2012. Beechwood had no problem with Frankfort last week 46-21 while Mayfield beat Russellville 42-14. Mayfield's only loss of the year came in OT to McCracken County back in August.

NewCath (7-5) at Shelby Valley (11-2) 7:30 PM
This will be the first away playoff game for NewCath this year as they take on the Wildcats of Shelby Valley. The Wildcats defeated Prestonsburg last week 20-14 while the Breds took care of Newport 42-26. We have no record of these 2 teams ever playing each other.

LexCath (10-3) at Highlands (11-2) 6:00 PM
Highlands is looking to make their seventh straight appearance in the State Championship game. They will take on the Knights of Lexington Catholic again with an early start time of 6:00 PM on Friday. The Birds held off a late rally by CovCath last week to win 37-34. LexCath defeated Boyle County last week 40-35. Since 2005, Highlands is 5-1 against the Knights winning the last 5.

Cooper (9-4) at Pulaski County (11-2) 7:30 PM
Cooper is playing their best ball at the right time as both their offense and defense are clicking on all cylinders. The Jaguars crushed Anderson County last week 61-14 and now face the Maroons of Pulaski County who beat Southwestern last week 24-16. We also have no record of these 2 teams ever playing each other.

Ballard (10-3) at Dixie (12-1) 7:30 PM
Dixie has not lost since their first game of the year and is coming off another big win over Simon Kenton 24-0. The Colonels will play the Bruins of Ballard who beat Butler last week 14-7. These 2 teams have not faced each other either.


Sunday, Dec 3

High School Basketball
Lloyd
0
Goshen
0
Ohio Valley Hoops Classic
Cooper
0
Delaware Christian OH
0
53,191 Games AND counting
in our database