STATE CHAMPS: Holy Cross Wins Kentucky Girls Basketball Title in Thriller
Bryan Burke - The River City News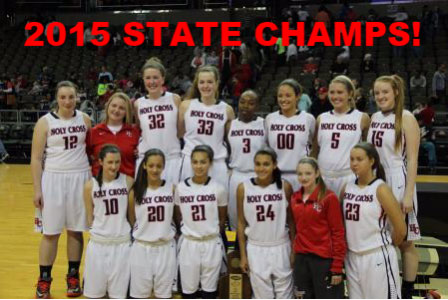 Holy Cross became the first Northern Kentucky girls basketball team ever to become state champions when they beat Allen County-Scottsville, 35-32, in the KHSAA Girls title game in Bowling Green.

Senior guard Deja Turner was named MVP of both the Sweet 16 and the 9th Region after leading her team in points in every postseason game this year for the Indians.

"We fought and we fought," Murphy said to KHSAAtv.com after the game. "We've been in this situation before where we don't get the calls, so we just focus on defense."

Holy Cross's championship run was largely due to the Indians dictating the game to their style of play. They are a grind-it-out halfcourt offense that looks to slow the action down and work the ball inside out by passing either passing inside to Ally Mayhaus who then pivots to either pass out to the perimeter or pull up for a mid-range jumper, or have point guard Dejah McClendon do the drive to the paint and do the same.

Against Allen County-Scottsville, they were able to do that again as they churned through their possessions with deliberate passing and patient game-management. Both teams were content with slow play and a low score as Allen County-Scottsville held the ball for long stretches of the first quarter.

Gregory was able to lead the Panthers to a good start with five early points, including a nice basket with the foul off of an offensive rebound that gave Allen County-Scottsville the lead. When Sara Sutton scored on the blocks, ACS found themselves up five points.
For more, read the full article at The River City News

Monday, Nov 28

High School Basketball
Boone County
78
F
Newport Catholic
85
Brossart
80
F
Villa Madonna
44
Beechwood
47
F
Walton Verona
83
Conner
49
F
Henry Clay
61
Gallatin County
68
F
Williamstown
75
Heritage Academy
0
Brown
0
45,423 Games AND counting
in our database